From a porch plagued by burnt out cedar shaker tiles to what is now an elegant entryway to a tastefully decorated home in Kinderlou, the Parkstone Construction team was pleased to play our part.
The project consisted of stripping away the burnt cedar tiles, replacing it with the concrete siding consistent with the rest of the exterior, removing the glass door, staining the front door with a richer, darker color, hanging different lighting fixtures for the porch and garage, and repainting the siding and trim. Work well worth it!
"Jake and the Parkstone crew were AMAZING! They were able to take my vision and bring it to life exactly as I had it in my head. The entire crew was as professional and personable as I could have ever hoped for, and I just couldn't be happier with the work they did. Now the house we bought finally feels like home when we walk in." – Homeowner, Gabi P.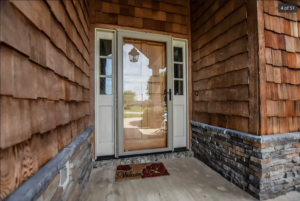 Project Title :

Exterior Trim Repair

Category :

Exterior

Client Details :

Gabi Parker

Project Location :

4119 Cane Mill Cir, Valdosta, GA 31601